Local Team Plays for AAU Regional Championship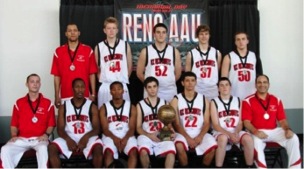 742 teams from 9 states bordering Nevada met at the Reno Convention Center for the Jam On It Memorial Day Tournament. The Arizona Red Shirts returned to the NCAA certified national completion system to defend their 2010 AAU Regional Championship that was won in Denver, CO last year. [details]

Reno, Nevada - 742 teams from 9 states bordering Nevada met at theReno Convention Center for the Jam On It Memorial Day Tournament. The convention center was fit with 53 separate courts for 3 days of basketball.


The Arizona Redshirts finished runner-up in the 17U Elite Division at the Jam On It Memorial Day Tournament in Reno, Nevada.
The AAU promoters build it as the largest AAU basketball tournament and the largest Memorial Day tournament in the world. 

The Arizona Red Shirts returned to the NCAA certified national completion system to defend their 2010 AAU Regional Championship title that was won in Denver, Colorado last year.

There were three separate 17U brackets - one elite bracket with 16 teams seeded and two additional brackets with 18 level-2 teams and level-3 teams each. 

The Arizona Red Shirts led their Elite Division championship game charge with team defense and non-stop ball pressure. The Arizona Red Shirts held teams to an average of 42 points while scoring an average 68 points.

The all-junior class of 2012 Arizona Red Shirts faced a Jam On It (host of the tournament) team in the finals - a team packed with seniors. Both teams had roared up their side of the brackets as both teams put on a clinic for the thousands of spectators. 

The stage was set for a tough fought 17U elite AAU championship game vying for a bid to the 17U D-1 nationals in Orlando, Florida the last week of July. It is interesting to note that the Red Shirts have already qualified for the Arizona AAU D-1 bid to the Nationals, and were working to better their seed in the Nationals.

The Jam On It team jumped out to a 10-0 lead. After a time out, the Red Shirts' bench was cleared and the Red Shirt team scored 11 straight points to take the lead by 7 at half-time. 

Coach Jordon Ballard said, "That's the nice thing about coaching a travel club team - every player on the team is a varsity all-star level player for their high schools. We do not have 'bench players' on the Red Shirts, we just have a few players not in the game at that time. If they are on the team they have something valuable to contribute and when those needs arise they do their part."

AAU has 16 min. stopped clock at all dead balls and utilizes all NCAA men's basketball rules making for a joust down the stretch with 5 lead changes in the second half. In the end, the Red Shirts were overcome for a 3-point loss to the older more mature team of Jam On It players. 

"It is defense that wins championships, and we let them initiate their offense," said Coach Brian Fabiano. He went on to say, "the whole team learned something from this one."

It has been a great spring for this team of players. They have been in championship games all year long and playing stronger and stronger as the spring rolls on. They have brought some of the best teams in the country to the brink this spring, with a 2-point double-overtime loss to the Compton Magic in the Adidas Elite 8 in the Desert, a 1-point overtime loss to the So Cal All-Stars (CA) in the Adidas Tournament in Irvine, CA, as well as playing in the championship game in the silver bracket in the Adidas Spring Showcasetournament in Colorado, and now a runner up in the AAU 17U elite circuit. 

It should be a great summer for recruiting to this group of over achievers. 

Players include: Tony Fabiano (Desert Mountain HS), Jake Cooper (Desert Mountain HS), Alec Savage(Desert Mountain HS), Austin Cooke (Desert Mountain HS), Lejon Johnson (Betty H. Fairfax HS), Kaimen Slay (Marcos de Niza HS), Collin Weaver (North Pointe Prep HS), Lucas Stivrins (Chaparral HS) andJoshua Mayes (Marcos de Niza HS).

The Arizona Red Shirts will be receiving the #1 winner trophy and #1 winner metals for the 17U Elite Division. The team they played was an 18/19U senior team and the 17U Elite championship game was actually the semi-final game. They played all-junior teams, and then the last game played that was billed as the tournament championship game was actually for the winner of the 18/19U bracket. 

For the Elite Division they seeded the 18/19U teams on one side of the bracket and seeded the 17U teams on the other side.

The Red Shirts had an impressive showing against all 17U teams, winning each with confidence. Even though they lost by 3 points to the 18/19U team, the Redshirts received the #1 trophy and metals for their division, and were apologized to for not making it clear at the end of the tournament. In addition, they received the 16th seed in the AAU Nationals tournament in Orlando this July.
AZ Red Shirts Finish Runner-Up in Colorado

This year's Double Pump Spring Classic held this weekend in Lakewood, Colorado kicked off the 2011 spring AAU/club season this weekend for many club programs across the country, while, for many others, this was their first major event of the spring.

Desert Mountain HS 5-foot-10 junior point guard Alec Savage led his Redshirts team to a runner-up championship finish in the Silver bracket this weekend in Colorado.
The Pump Brothers, David and Dana Pump, always put together excellent events that are very organized and always well attended. The event's media packet was also well put together - making it very easy to know who you were watching play. Tournament Directors, Jan and Phil Bryant are always a treat as well, as they work so hard to keep things rolling throughout the weekend and in seamless fashion.
This year's field of teams was absolutely loaded with talent, as teams from all over the country filled the 6-court gymnasium in Colorado. As part of the Best Buy Basketball Challenge Series, the tournament also had two rooms filled with Best Buy's best in audio and video equipment for the players to enjoy throughout the event - a very nice added addition to this year's tournament.
While another group of Arizona top prospects finished among the final 8 teams in the Open Division, the Arizona Redshirts AAU/club program also made Arizona proud - advancing to the championship game of the tournament's Silver Division.
Program director and head coach, Brian Fabiano and his team of hardworking and dedicated players proved that team defense, sharing the basketball and working together go a long way. The group of talented Arizona 2012 prospects advanced to this year's tournament championship in the Silver Division, only to eventually lose in the finals.
"Our kids played very hard," said Fabiano. "I am very proud of our team's effort this weekend - we have some really good kids."
Fabiano's program returned three players this club season from a team a year ago that did very well on the club circuit. A talented trio of Desert Mountain High School players returned from last year's group - 6-foot-7 junior Jake Cooper, 5-foot-10 junior point guard Alec Savage and 6-foot-3 junior Tony Fabiano. The trio of junior prospects returned to this year's team with two focuses in mind - winning and building their college recruitment.
The Redshirts added 6 other players to the group this season, and have rolled thus far this spring. This weekend the group came together nicely - almost winning it all in Colorado.
Savage, a pure point guard prospect that gets everyone involved in the game, while providing excellent on-the-ball defense, also shot the basketball very well this weekend. Savage looks ready to have a breakout season for himself, after leading Desert Mountain HS to an excellent season as a junior starter.
Fabiano is a tireless worker on both ends of the floor that plays with an unselfish mentality on the offensive end, and gets more enjoyment out of setting a good screen for his teammate rather than scoring. Fabiano is a great teammate and is the vocal leader of this team.
Cooper is a big body 4-man that competes hard at all times, and utilizes his body well and gains excellent inside post position. While he is still developing on the offensive end, he plays with excellent heart and determination. A very good prospect for a smaller program next season looking for size.
The Redshirts also got excellent suport from Chaparral HS 6-foot-10 junior post Lucas Stivrins. Stivrins had a coming-out-party this weekend, as he proved that he is a big-time sleeper prospect in Arizona's 2012 class. A post presence this high school season that saw his time at the junior varsity level, Stivrins has improved a great deal in the past 2 months, and it showed this weekend as the talented post prospect came up very big down the stretch for the Redshirts.
Fairfax HS 5-foot-8 junior guard Lejon Johnson and Marcos De Niza HS 5-foot-11 junior guard Joshua Mayes provided excellent depth in the backcourt for the team this weekend. Both players shot the basketball well, while also defending the basketball on the perimeter effectively and creating turnovers.
6-foot-1 senior guard Lanaire McDonald provided the Redshirts with good scoring and was among the team's leading scorers in the tournament. An unsigned senior guard, McDonald is an athletic slasher that is capable of playing both guard positions on the floor.
While the Redshirts did not win it all this weekend, they definitely represented the state of Arizona well as they play the game the right way as a team and do it for the right reasons.
"I love the Redshirts," said Joshua Mayes. "When I saw all the places that this team is going this spring and summer, and after I went to one practice, I knew I had to be a part of it. This is a great experience."
Congratulations to the Redshirts program and all of it's members on a great weekend in Colorado.
Opportunities are Rising for the Arizona Red Shirts!
The Arizona Red Shirts have been playing together as a team since kindergarten, and are currently a nationally-ranked 17U AAU team. The team is a non-profit organization with a mission of community outreach, utilizing basketball as a means to teach future business leadership. Coach Brian Fabiano established the team as a vehicle to ensure that hard-working young men who might otherwise be overlooked get a chance to be seen by college programs. The Arizona Red Shirts players have all committed to harness their athletic skills in order to build a platform for their education to one day become team leaders of our community.
Over the past year, the Red Shirts players have worked to raise money to attend tournaments all over the U.S. including: May Madness (Mesa, AZ), Southwest Showcase (Phoenix AZ), AAU Super Regionals (Denver, CO), West Coast All-Stars Camp (Carson, CA), Adidas Three Stripes (Carson, CA), LVH Las Vegas Hoops (Las Vegas, NV), Adidas Super 64 (Las Vegas, NV) and AAU Nationals (Orlando, FL).
Colleges and universities around the country are now expressing interest in our players after viewing their talent on the court first hand during this summer's tournaments. Interest has been expressed by the following schools to the following players.
Mitchell Burnett
University of Denver- Medium interest expressed on Rivals.com
Arizona State University- Medium interest expressed on Rivals.com
Gonzaga University- Medium interest expressed on Rivals.com
Georgia Institute of Technology- Medium interest expressed on Rivals.com
California State University, Dominguez Hills- Invitation to showcase camp

Judah St. Amand
St. Michaels College Vermont- Calls from the coach
Kansas Wesley Anne- Calls and multiple emails from the coach
Whitman College WA- Calls and emails from the coach, invitation to the elite camp, player profiles
California State University, Dominguez Hills- Invitation to showcase camp
Simpson University- Letter and player profile
Lafayette College, PA- Letter and player profile

Branden Stiles
California State University, Dominguez Hills- Invitation to showcase camp
Lawson State College – Calls and emails from coach requesting game films

Randy Azuogu
Coe College, Cedar Rapids- Call from the athletic department
California State University, Dominguez Hills- Invitation to showcase camp
Furman University- Letter and player profile
Fordham University- Letter and player profile

Jake Cooper
University of Rochester- Letter and player profile
California State University, Dominguez Hills- Invitation to showcase camp

Tony Fabiano
Case Western Reserve University – Player profile
University of California, Davis- Letter and player profile
Whitman College- Calls and emails from the coach, invitation to the elite camp, player profile
California State University, Dominguez Hills- Invitation to showcase camp
University of Rochester – Letter and player profile
St. Edward's University – Letter and player profile
Columbia University - Calls and emails from coach requesting transcripts

Austin Cooke
Whitman College- Calls and emails from the coach, invitation to the elite camp, player profiles
Saint Michael's College - Calls and emails from coach
California State University, Dominguez Hills- Invitation to showcase camp
Mayville State University - Calls and emails from coach requesting game films
Fort Lewis College - Calls and emails from coach requesting game films
University of North Carolina at Pembroke - Calls and emails from coach requesting game films
University of Rochester - Calls and emails from coach requesting game films
Jacksonville University - Calls and emails from coach requesting game films

Alec Savage
California State University, Dominguez Hills- Invitation to showcase camp

Lorenzo Pineda
California State University, Dominguez Hills- Invitation to showcase camp


Arizona Red Shirts - 2010 Summer Tour - Part 2
The Arizona Red Shirts headed back to Las Vegas on July 21st for the second time this summer to compete in the Adidas Super 64 tournament. This tournament is one of the most lauded youth basketball tournaments in the world, drawing all-star teams and deep D1 talent from across the country.
The Red Shirts first matched up with the East Coast Fusion from Virginia in pool play. The Red Shirts lost that battle but went on to win their next two pool games in front of hundreds of college coaches. The Red Shirts dominated the Colorado Rage and the Bakersfield Revolution in front of scores of recruiters.
After going 2-1 in pool play, the Arizona Red Shirts lost to Capistrano Valley from California by one point at the buzzer. The team held a 6-point lead most of the game and just as the time expired, they lost on a miracle shot by the other team.
Coaches from UC Irvine, Fordham, American University, Whitman, Grand Canyon University and NAU made it a point to attend numerous Arizona Red Shirts games to scout players from the team. The boys performed well and this exposure will hopefully lead to increased college interest.
Coach Brian Fabiano says, "The summer trip was a great success. Coming from a basketball market like Phoenix, our boys are not heavily scouted. The objective was to get the team matched up against lauded and nationally recruited talent as well as to catch the eye of college coaches with hard-nosed play as they came to see the more touted and statistically dominant players."
Coach Jordan Ballard says, "The Red Shirts players had a coming out party this summer. There are many teams in the 'valley of the sun' that have had a history of collecting top players but the Red Shirts proved this summer that they have some of the best 'under the radar' talent on this all-star Arizona team."
"Half the team members are sophomores and half the team members are juniors," says Ballard. "We played all summer against senior teams that included up to three age exceptions per team (players that had already finished their senior year). This team was young but still managed to win the AAU Junior Championship in May in Denver, Colorado. They also went on to win runner-up in the 19U division in Denver and the gold division bracket in the Southwest Showcase in Phoenix in April. They won the Las Vegas Swoosh Nationals in July at the 17U/18U bracket. The team beat Rivals top ranked 3 PL Hoops of Las Vegas and then returned to Vegas to take second in their pool in the Adidas Super 64."
Coach Fabiano says, "They played within a point or two in the bracket losses which bodes well for this team as all of the players that have not signed to a college can return to compete in these same brackets next year. They will have had an additional year to mature and not have to face competition that is much older and more developed. We will return as a team that was within a point of taking it to the next level the last time and will be much more prepared to go deeply into the brackets of National Competition next year."
The Arizona Red Shirts team consists of players from 8 different high schools around the Valley. The players include: Mitchell Burnett II- Central HS, Tyler Guy – Horizon HS, Brandon Stiles- Washington HS, Judah St Amand- Scottsdale Christian HS, Lorenzo Pineda- Camelback HS, Alec Savage- Desert Mountain HS, Tony Fabiano- Desert Mountain HS, Jake Cooper – Desert Mountain HS, Randy Azuogu- Desert Mountain HS, Austin Cooke- Desert Mountain HS and Mark White- Paradise Valley HS.
Directly from the Adidas Super 64 in Las Vegas, the team took a redeye flight to the AAU Nationals in Orlando. They arrived in Florida at 5:30 AM ready to defend their AAU Regional Championship title that they earned earlier in the summer. The team's first pool game was originally scheduled and posted to tip 24 hours after the team's arrival in Orlando.
All day the team participated in outside team building experiences until check in time at the hotel. The plan was to let the players check in, feed them a huge meal and let them go to sleep for 14 hours.
As a veteran travel tournament team, the coaches double checked the game times before they packed it in for the night to ensure the schedule had not changed since the night before. Much to their surprise, they found the game had been moved up a day!
Coach Fabiano reports, "We had a team meeting at the hotel to let the players know they were expected to be showered and sleeping in one hour and the coaches would be by shortly for room check. They sauntered off to shower, Coach Ballard and I checked into the room, got out our laptops to check the game time before we signed off for the night and discovered the Red Shirts first pool game had been moved and was tipping in one hour at Cypress HS in Kissimmee, Florida.
"We called each room and told them what had happened and to meet in the lobby dressed for battle in 5 minutes. And they thought I was joking at first," says Fabiano. The coaches and players were sleep deprived, on full stomachs and in a lethargic state of mind. But, they had to transform their mindset into competition mode.
The Red Shirts arrived at their first game 30 minutes prior to tipoff and were greeted courtside by their first opponent, a well-rested Georgia Lakers team. With two minutes remaining in pregame warm-ups, the coaches gathered the team and gave them one last word of encouragement.
"We tried to give them the message that sometimes in life the difference between winners and losers is demonstrating your best effort. We told them that we expected them to leave it all out on the floor. We just wanted them to give whatever it was they had" says Fabiano.
Amazingly, the game was filled with Red Shirts heroes as one player after another put mind over matter and performed flawlessly to create the win. The hallmark of the game was continual pressure defense and maximum effort by all ten players. Coach Ballard says, "I have been around basketball my whole life and I've seen a lot of games, but this truly was a miraculous effort powered by sheer will and determination shown by these young men. These kids have been playing together since early grade school and they know how to win together."
After finally getting back to the hotel and getting some sleep after 35 hours of no rest and a game under their belts, the Red Shirts would get up the next day to do it all over again. The team would play their next game on the main court at the ESPN World Wide of Sports complex and would face another strong east coast team, the New York Knights.
The Red Shirts put together another team effort and dominated their east coast opponent. Coach Ballard says, "It was rewarding as a coach and fan of the game to see our boys gain the respect from the east coast teams and represent Arizona in the fashion that they did."
Coach Fabiano says, "The team attended the majority of the major west coast tournaments this year and we are pleased to announce the decision to defend our Regional AAU Championship title in Orlando, Florida was the best decision we made all summer. The boys played in front of 3 times more college coaches then in all of the west coast tournaments combined. It is no secret that the quantity of potential scholarship providing schools far exceeds the west coast. We will be back next year with a team that has been there before, only more seasoned and more mature."
The Arizona Red Shirts Thrive at the Las Vegas Swoosh Nationals and Adidas Three Stripes
The Arizona Red Shirts club basketball team started the first half of their July NCAA college recruiting tournament tour with appearances by four Red Shirts players at the West Coast All Star camp in Carson, CA. Representing the Redshirts at the prestigious camp was in coming Desert Mountain HS juniors, Tony Fabiano, Jake Cooper and Alec Savage, as well as Shadow Mountain HS incoming senior Conor Farquharson. To view a published section on their performance from the Arizona Preps recruiting website click here.
Red Shirts coaches, Brian Fabiano and Jordan Ballad, drove from Phoenix, AZ with the rest of the team to pick up the West Coast All Star camp attendees to play in the Adidas Three Stripes tournament in Los Angeles, CA. The Arizona Red Shirts played powerhouse teams from around the southwest region including the Branch West Basketball Academy Red and Yellow (CA), the Las Vegas Prospects (NV) and the Valley Stars Pump-N-Run (CA).
The Red Shirts notably battled the Las Vegas Prospects in a close game but ended up losing against the top ranked college prospects with three players already committed to D1 programs on the prospects team including 5th year seniors. The Red Shirts are competing this summer in the 17/18U division with a young team comprised of half incoming juniors and half incoming seniors. The team dug themselves a hole as a result of cold shooting in the first half, but put together a strong second half performance with tenacious defense. Judah St. Amand from Scottsdale Christian Academy lead the Red Shirts offense by hitting seven 3 pointers in the second half, spurring a strong comeback and gaining looks from many college coaches viewing the game. Strong performances by Mark White, Tony Fabiano, Branden Stiles, Jake Cooper, Mitchell Burnett II, Conor Farquharson and Austin Cooke significantly impacted the game.
After losing in bracket play at the Adidas Three Stripes tournament, the Arizona Red Shirts drove to Las Vegas to play in the Las Vegas Swoosh Nationals. The Red Shirts played against the San Diego Thunder, two Senior teams from the Las Vegas Dynasty and the senior teams from 24/7 Hoops, ranked by Las Vegas Rivals as the number two and three teams in the state. Las Vegas' top team, the 24/7 Hoops, included two high level Division 1 prospects, Marcus Falley and Keith Taylor, both of whom played on the US Basketball Academy All Stars and had stand out years at respected prep academies.
In the end the Red Shirts put together a solid game of team defense against the 24/7 Hoops and proved to be the overall better team with a winning score of 66-61 which allowed them to advance to the championship game. The strong team defense was assisted by a remarkable offense, including numerous transition baskets off defensive rebounds and steals. Leading the way for the Red Shirts, Mitchell Burnett scored 22 points and had his share of highlight reel blocks and dunks on the top ranked talent at 24/7 Hoops. Tony Fabiano shot 5/6 from mid range to help collapse their zone trap helped by Brandon Stiles 4/5 jump shots and Conor Farquharson's 5/6 in the paint. After calling off the trap, Jake Cooper and point guards Alec Savage and Mark White penetrated the paint and dished to the big guy who scraped the glass clean with his work on the boards. All the players contributed to the win as the team play started to rise to the level of national competition.
Coach Jordan Ballard says, "The Arizona Red Shirts proved once again the power of team play as they defiantly shut down and overwhelmed top ranked D1 prospects, Keith Taylor and Marcus Fallen. To have incoming juniors like Jake Cooper and Tony Fabiano defending the aerial assault against players of this caliber provides a lot of experience for these young players who are playing up with more mature players."
When playing the Las Vegas Dynasty #1, Red Shirts player, Branden Stiles, continually took the ball to the basket and made a multitude of plays for his teammates. Mark White showed strong defense and leadership skills as he distributed the ball with a two point guard attack with fellow team mate Alec Savage keeping the smaller and younger Red Shirts within 1 point with 7 minutes left in the game. Despite a good effort in the championship game, the Arizona Red Shirts came up short to another top ranked Las Vegas team, the Las Vegas Dynasty.
Coach Brian Fabiano says, "The team was really challenged in LA with players coming back from injuries and being newly placed in the lineup. However, during the week they came together and played well in the Las Vegas Swoosh Nationals earning the runner up in the senior division." He goes on to say, "What's most important will be their appearance next week in the NCAA sanctioned Adidas Super 64 back in Las Vegas, where they will be playing elite teams from Virginia, Utah and California in their pool games as well as other top elite teams from all over the country."
After Las Vegas the team boards a plane to Orlando, FL to compete in the NCAA sanctioned AAU Nationals held at the milk house at Disney World to defend the Arizona Red Shirts AAU Regional Championship title they won in Denver in May. The team looks forward to earning an opportunity to play in front of ESPN cameras and win a National Championship or at least some exposure to college coaches for the players.
Arizona AAU Basketball Team Dominates Colorado Teams in AAU Regional Qualifier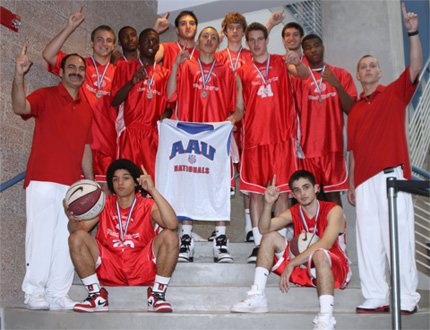 The Arizona Redshirts, a local Phoenix club tournament team won the Juniors division Regional AAU Championship this Memorial Day weekend in Denver at the AAU Super Regional qualifying tournament. After impressively winning the Regional Juniors Division by an average margin of more than 36 points per game, these overachieving sophomores and juniors continued to progress in the older division brackets and advanced to the 17u/18's Championship game. After an uncharacteristic low conversion percentage the younger Redshirts team found themselves down by 27 to start the fourth quarter of the Championship game.
After an amazing furry of defensive effort and miraculous offensive plays, the Arizona Redshirts fought to bring the margin down to 8 points with 3 minutes left in the fourth quarter. Jack Simon, AAU referee, said, "I watched this team from Arizona all weekend. The teamwork and offensive synchronicity as well as the defensive intensity and individual fundamental display from each of the players was impressive. Every year there is a team about whom everybody says, 'Where did these guys come from?' You can tell this is one of those teams everyone will be talking about when they are all playing at their own age groups next year. In the fourth quarter we were all thinking this team just might win the older division too."
The altitude of the arena at almost 6000 feet above sea level and playing against top-ranked seniors on the Montebello squad proved too steep a climb for this promising 16u/Junior team consisting of half sophomores and half juniors in high school. Coach Brian Fabiano said, "I could not be more proud of this team and their performance at this prestigious tournament. They played hard, played together and without panic to stay in the game and give themselves a chance to win against higher-ranked competition."
The team had their choice to take the bid to nationals as a D2 team in the national tournament for their runner-up position in the 17/18 division, or attend the AAU Nationals using their D1 bid in the Juniors Division to participate in the AAU National Championships, to be played this July in Orlando Florida.
Red Shirts Coach Jordan Ballard (son of long-time Valley college coach Sam Ballard) said, "We like for the team to play in tournaments at the highest level they can compete as it helps develop the players, although in the Nationals and the Adidias Super 64 and in many of the NCAA recruiting tournaments this summer we will compete at our age group, giving the players a chance to be evaluated by recruiters with their high school graduating class.
Arizona Red Shirts Bring the Heat to Los Angeles
15U and 16U Teams Have a Strong Showing at Double Pump Best of Summer Tournament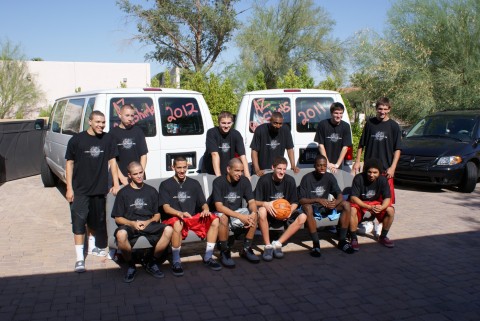 It took thousands of hours of personal training, hundreds of hours in practice, four months of tournament play, lots of dedication and two large vans to get the Arizona Red Shirts to the NCAA recruiting tournaments this July, but they made it. Emerging from the two sizeable vehicles it takes to accommodate these larger than average teenagers, at 15 and 16 years old the average player's size is 6' 3" and 210 pounds, the Arizona Red Shirts arrive for the last leg of their summer tournaments. With determination on their faces, the team formed a long line as they marched across the parking lot to the gymnasium. Maybe it was natural, maybe it was an intimidation tactic (or just the playfulness of teenagers mimicking the Dream Team ads) either way, when you see this team you know they're a determined and focused group of teenagers.
The Red Shirts were in Los Angeles to compete at the Double Pump Adidas Invitational Best of Summer Tournament 2009. This tournament brings together the top basketball talent from around the country and gives the players a chance to see what they're made of as they compete under the watchful eye of hundreds of NCAA College recruiters. A few of these recruiters came early to the Red Shirts games specifically to watch some of their players. No pressure, right?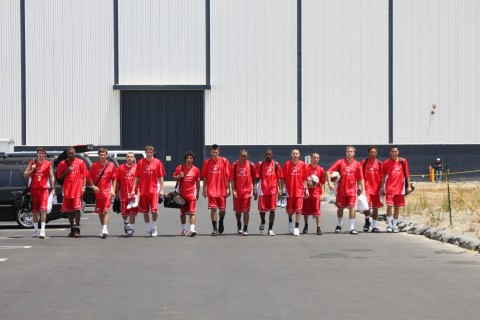 If the players were feeling any anxiety as they stepped onto the court at LA's Loyola Marymount University each day they didn't show it and their performance certainly proved they had earned their place in the tournament.
The players began their week at Double Pump with an NCAA briefing at Loyola Marymount University (LMU) before stepping out on the court. They would split their play time between the LMU gymnasium and the famous HAX facility, the same gym that legendary players before them have come through. Coming off of a win of second in their pool, the players felt strong walking into their fourth day of tournaments at HAX. Between games, the team would check the schedule to see who they would be facing next as they advanced through the pool.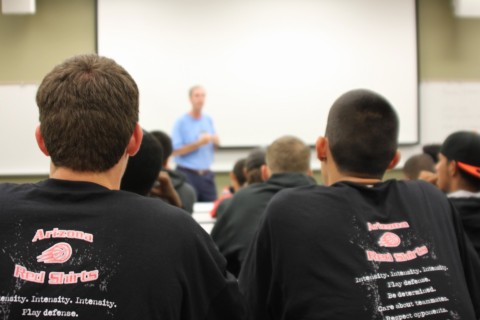 When it was all said and done, the Arizona Red Shirts 2009 season club emerged second in the 15U and 16U AAU Arizona state championships, medaling in their first invitational tournament and playing strong to finish second in the pool at the Adidas-sponsored event. The only two loses experienced while playing the Adidas invitational were losses to the top one and two ranked teams in the country, who eventually played for the championship on the final day.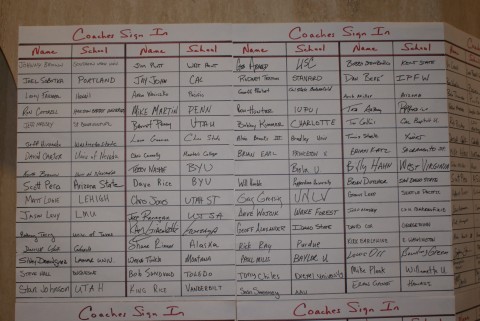 The Red Shirts may have suffered defeat at the hands of the best 16U team in the country but it also allowed some of the players to gain notice. BCI California Supreme and Ohio have nine division 1 recruits among the two teams and a couple of NBA level athletes that are "one and done" players. When a player from Phoenix takes one of these recognized future NBA level athletes to the rack, shoots over them, or plays tough "D" it shines a light on the Red Shirts players for all to see.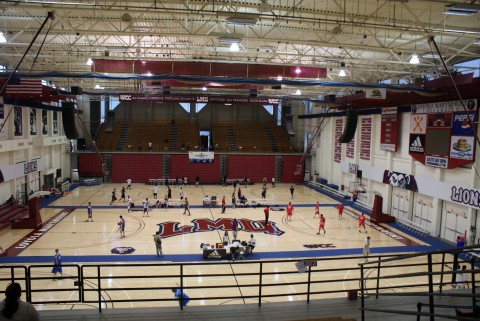 "The bottom line is if one of our players, or our team can take it to one of these 'marquee', handpicked high school players and teams at these NCAA recruiting tournaments then they earn a place to play in college" says Club Coach Brian Fabiano "our job as a club is to get these players to as many of the NCAA recruiting tournaments as possible so they can showcase their ability to play at the higher levels of basketball."
The 16U sophomores had a very strong showing at the invitational leading the 16U team Adidas-sponsored Basketball Congress International (BCI) most of the game before losing by 6 points. This season the 15U Red Shirts freshman suffered a key set back when their 6' 7" freshman center, Jake Cooper, was injured and unable to play, but they still beat the Colorado Champs (AAU state champions) and the Alexandria Kings (AAU state champions) from Virginia. Both Red Shirts teams made a phenomenal effort in this year's tournament and proved an Arizona team can hold their own against fierce competition at a national level.
As a team that consists of most of the same players it's had since grade school, a rarity in club sports, the Arizona Red Shirts continue to display their strength as a team. Their increased physical capabilities, dedication and focus to their game and year round commitment to training have led this team to be one of the top in their peer group. As Coach Fabiano puts it "This is a great group of players that just keeps getting better as they get older. They are committed young men who pay the price pursuing their personal excellence."
At the end of the Double Pump tournament the team spent time on the Santa Monica Pier to let off some steam and enjoy the ocean view. You could find the Red Shirts at the basketball toss booth on the pier trying to win a custom basketball, which almost every player achieved. The game operator commented that he gave out more basketballs to Red Shirts players than he had given out in the last month. But it was after the sun went down that the party really started. The Red Shirts took to the Santa Monica Promenade, line dancing with the street performers, which resulted in an all out party for anyone who wanted to join. At one point the exhibition and observers were 50 strong and included everyone from kids to grandparents enjoying a cool California evening.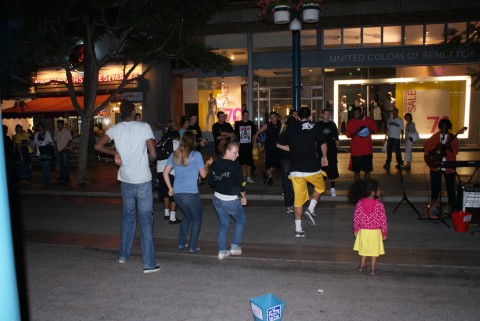 The next day, the Red Shirts were back home in Phoenix to get ready for their high school seasons. The players will be starting their school year season now and you can find some of them as top players on their high school teams. In fact, the Red Shirts are comprised of the top players from 10 different high schools across the valley. From Caesar Chavez to Desert Mountain these boys unite each year to compete as a group on the national circuit, possibly earning another chance to catch the eye of college recruiters by demonstrating their ability to play with the best nationally.
Red Shirts 15U Team Goes Undefeated Again
For the 2nd year in a row, the 15U Red Shirts went undefeated with 11 wins, no losses in ABL League play. The boys are on their way to The 2008 Main Event, the national NCAA sanctioned tournament. The Red Shirts team is a Valley Club 15U youth basketball team made up of many boys that have played together since kindergarten. This year's team returns 100% of its players again. Although youth travel club teams typically break apart after club athletes are of high school age, this team sticks together with a reinvigorated focus. They continue to work hard as a team to become significant competitors in the basketball recruiting events throughout high school.  This proves the old saying: A team that stays together wins together.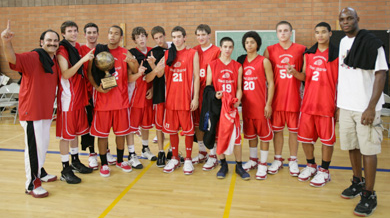 Red Shirts 15U Basketball Team
Red Shirts 14U Team Wins AAU State Championship
The 14U Red Shirts are headed for Orlando, Florida in August for the National AAU Division 2 Championship Tournament after winning the AAU D2 State Championship this year. The team came back to defeat the Gym Rats by 8 points after a previous loss at the NCAA Vegas invitational in the spring. Team Co-captain Tony Fabiano said: "It was a sweet win. It's been a back and forth battle all year with us beating them at the end of last year for a championship in League ball, and then they beat us up in Vegas in the NCAA event, and this year during league play, and then we came back and won the AZ AAU championship from them for a chance go to Disney world in Florida and compete for being the top AAU basketball team in the nation.  Every game with the Gym Rats is a hard fought battle--they have always been a top team in AZ and so have we. The rivalry goes back to 4th grade. They have some very good players and coaches, so it is nice to beat them in the final game we played in 8th grade."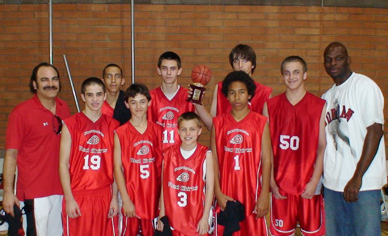 Red Shirts 14U Basketball Team
2007 NCAA Main Event Gold Bracket Team
We are organizing a new team of 8th graders. Call Coach Fabiano if you are interested in being a part of forming another great team headed for high school. We will play the rest of this year together and and beyond Last year's Red Shirts are all starters for their high school teams! The Red Shirts believe we can grow and teach basketball players new and increasing levels of skill each and every season. We believe if the team works hard TOGETHER we can become an elite team.
We believe in working with the same players from year to year to help develop each player to their best ability. We believe teaching a group of players to develop together as a powerful unit is the ultimate success. We are a neighborhood club team whose parents, coaches and players ban together to provide a platform for development as basketball players AND young men. If you are interested in playing for an elite winning team who has fun together then call Coach Brian Fabiano for a try out at 602-909-7722.
Valley team packs a punch in Las Vegas at The Main Event
Local youth basketball team is now ranked nationally
Scottsdale, AZ – The Red Shirts, a Valley club 14U youth basketball team who have been playing as a team since kindergarten, returned yesterday from The Main Event, a national-level NCAA certified tournament held in Las Vegas. This year, the team finished second in under pool play and made it to the gold championship bracket. The team is now ranked 19th in the country.
Playing in this year's tournament were Alec Savage, Quentin Hughes, Conor Farquharson, Eddie Ellis, Judah St. Armand, Mark White, Tony Fabiano and their coach Brian Fabiano. Three other team members, Jake Cipolletti, Nate Shindel and Tyler Guy, were unable to attend.
The Red Shirts are a truly unique organization. They have kept many of the original players since kindergarten and work first and foremost on improving each individual player's skills to the level it takes to win as a group.
Even more surprising, the coaches have no say about who is added to the team. New team members are selected for The Red Shirts by the players themselves. Each potential new player is invited to three practices and the team members vote for or against the new addition based on that player's attitude and integrity as well as their athletic aptitude.
"You don't see that very often in a national-level competitive team," said team parent Jeff Savage. "For most of these stacked powerhouse clubs at this level, the kids are hand-picked as superstars and they know they can just as easily be swapped out if they don't play well."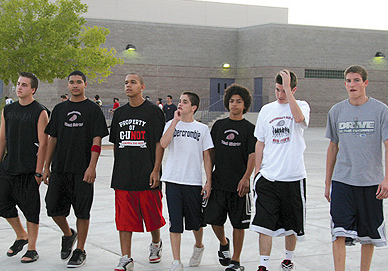 Team center, Farquharson agreed the team's voting policy was an asset.
"We as players can see right away who is a good fit and if we need that type of player on our team. Sometimes players only act a certain way when the coaches are watching and we as players know everything that happens on the court, not just what a coach can see."
"Sticking together is one of our huge assets," point guard White says. "We know how all our teammates play. We know when they are going to shoot and when they are going to pass. We know each other well. We anticipate our teammates' next move and play aggressively as a team."
The Red Shirts, whose members live and attend school throughout the Valley, also benefit off the court from the exposure to the wide range of lifestyles, cultures and family socio-economic levels of their team members.
"With our kids, it's a hodgepodge," says Savage. "They come from all kinds of backgrounds and v. Some drive from across the Valley just to be on the team."
Each year, hundreds of college recruiters attend The Main Event tournament, and according to Coach Fabiano, it is an excellent opportunity for the players to gain critical exposure to these recruiters the players might not otherwise receive. "If your son is six feet, ten inches, the division-one programs will come to recruit in your living room. But if you are not at that place but are an exceptional player, there are literally thousands of good college programs out there that just don't have the resources to scout out players in every city and state."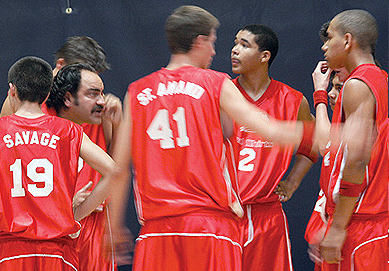 For the Red Shirts, the objectives of the tournament were twofold: To provide the boys with the opportunity to accumulate presence with the NCAA recruiting platform by compiling statistics that are reported to their database for recruiters to refer to, and equally important, to give the boys and their parents the opportunity to compare their skills and abilities and objectively and determine where they stand compared to other players who are competing on a national level.
Fabiano identifies four features that recruiters look for in an athlete: skill level, speed, size and the player's passion, desire and heart. Fabiano said The Red Shirts, as a team, were champion-level performers in terms of speed and passion for the game.
"The good news is that the two things you can't change - speed and heart - they already have. The other two are size and skill. They are in the 90th percentile in skill level but as a rule, Arizona players are 20 to 25 percent undersized. At the top level that doesn't just mean height, it is as much about muscle strength and power. Throughout this tournament our kids could see how hard they have to work in the weight room and on the court to get to the level they need to get a college scholarship."
"It was very challenging," said power forward, Tony Fabiano. "I learned what I had to do to become one of the best and play with the guys that get recruited out of high school."
At the start of the tournament, the players were required to watch a video explaining the eligibility requirements and amateur disqualification criteria for potential NCAA athletes. While the video contained much practical information, it also served the unintentional purpose of making the boys and their parents realize – maybe for the first time – that they really are contenders for scholarships and spots on highly competitive college teams.
"As a father and a coach, it gave me chills," said Fabiano. "To see our boys learning about the NCAA recruitment rules and understand they are actually in the place they have been dreaming about and have worked so hard to get to."
After years of coaching, these boys Fabiano, who has been named Coach of the Year twice by the ABL, is now turning them over to their high school coaches for the upcoming school year.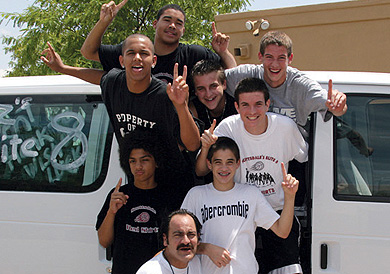 After all the hard work, Fabiano is still not done. He says he is forming a new club team of 8th-grade Red Shirts bound to play at Desert Mountain High School in North Scottsdale. The Red Shirts are now playing in the ABL (All-Star Basketball League). Their team stats are posted at www.ablhoops.com.
Todd Koceja, a director for the All-Star Basketball League says, "Coach Fabiano has done an incredible job with his players. Each year they are one of the best in their age group and each year they find a way to get better. What I find interesting is their focus is not on winning basketball games but building a great team of young men. Don't get me wrong, they are fiery, competitive and win their share of games too."
When It Comes to the Game of Basketball, Opposites Impact
Two Players Who Can Read Each Other's Minds
It was on a basketball court that Tony Fabiano and Alec Savage first met, when Tony was four years old and Alec was less than a year older. Although he was younger, Tony was more than a head taller than Alec. Tony was in kindergarten and Alec was a first grader. Alec was a small, fast, talkative, energetic kid whose motor never stopped running. Tony, much bigger than his teammates although a year younger, was more reserved, deliberate and quieter. Alec became the point guard for the team, named the Arizona Red Shirts, and Tony posted up as either center or power forward. The two quickly collected nicknames that reflected their differing demeanors. Tony became known as "the Quiet Giant" and everybody called Alec "the Energizer Bunny."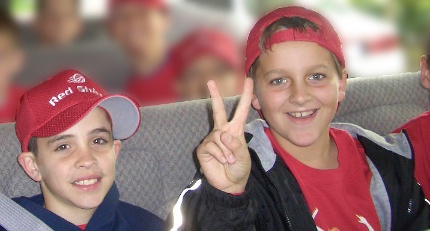 Outwardly, except for their love of basketball, it appeared that the two couldn't be more different. But they bonded quickly, and it soon became obvious to the coaches and families of their first team that the boys could meld their different personalities and skills to become a dynamic force on the court. Even at that young age, Tony and Alec seemed to have an instinctive feel for the teamwork that winning basketball requires. Tony knew exactly when to set a pick for Alec; Alec had the same feel for passing the ball to Tony when he was beating his defender. Very naturally, the two seemingly "opposites" became a team within the team. Their on-court chemistry made each one a better player.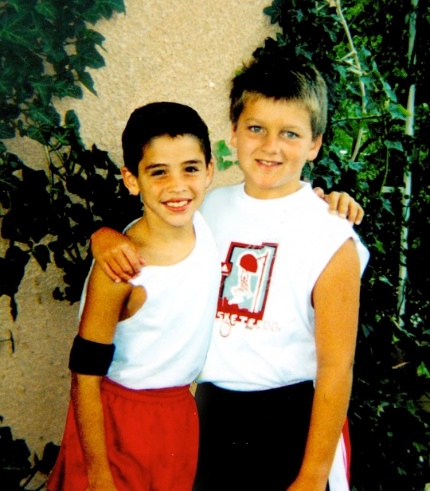 The team dominated its league that first year, routinely winning games by a large margin. The same thing happened the next year – they dominated second and third grade opponents by an average margin of 35 points, winning one game 85 - 0. At this point the coach of the Arizona Red Shirts realized he had to make a change, so the next year he moved the team up to a fourth and fifth grade league even though his players were third graders at the time.
Now, the shoe was on the other foot; not only were they challenged by the older players, they were regularly beaten, often badly. Coach Fabiano used the new environment as a teaching opportunity, and the team responded well. Then after a losing season their first year in the competitive league, the Arizona Red Shirts were the league champions the following year.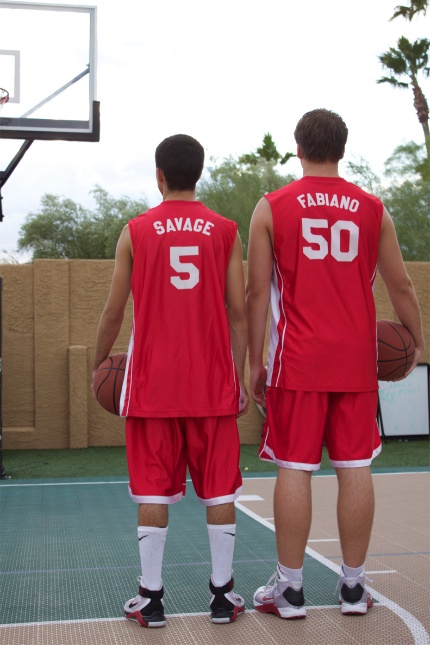 This level of success has continued for the Arizona Red Shirts as they transitioned every two years through AYS ball, YMCA leagues, competitive leagues and now to their participation in the national club travel circuit, touring the national NCAA recruiting tournaments. This past season the Arizona Red Shirts' two teams were second in the state of Arizona in the AAU Senior Boys 15U and 16U basketball tournament. The two Arizona Red Shirts teams regularly play in major NCAA recruiting tournaments around the country competing at the highest level for their age group.
For more than a decade, Alec and Tony have played and prospered together. Even when they attended different schools for elementary and middle school, their basketball bond remained strong as they continued to play together. They are now both entering their sophomore year at Desert Mountain High School and will contribute their combined talents to the basketball team there. Basketball skills that have been honed by more than ten years of competitive play and are augmented by the court sense of having played hundreds of games together. Even though they have different interests and sets of friends in high school, on the court they still combine almost as one to elevate each other's performance.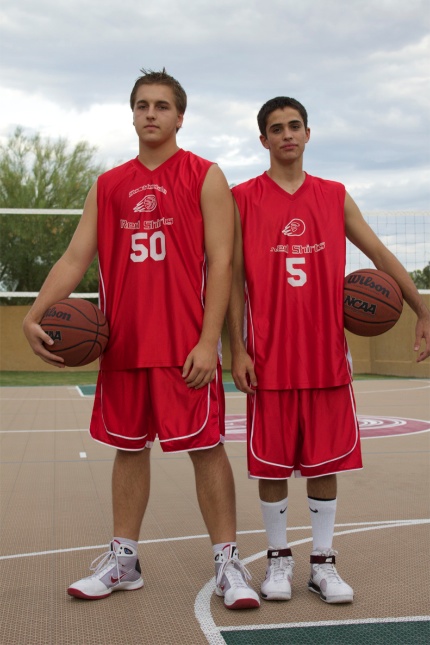 Alec is a very competitive athlete who refuses to quit. He is a classic point guard in heart, skill and athleticism. He is a true warrior whose motor runs at full speed from the moment he steps on the court until the final whistle. Alec is a "pass-first" point guard in the classic style of Jason Kidd or Steve Nash. He knows how to take over a game single-handedly, defensively or offensively, when his team needs him to. He is the emotional spark plug for any team he's ever played on, and his hard-nosed, no-nonsense style of play demands respect from competitors and teammates alike.
As a coach's son, Tony plays with a heightened sense of commitment to his coaches, his teammates and the game. Tony's intellectual approach, combined with his basketball experience, puts him in the position of a court leader. His club basketball coach, Jordan Ballard, says, "Tony has a higher basketball IQ than any sophomore high school athlete I have worked with. His sense of court spacing and his ability to fire up the others on the court with his focus, heart, and defensive leadership makes Tony a particular asset to any team."
Both boys are very goal-oriented and are pursuing a dream of playing at the college level. Tony says about his future, "I am continuing to work to be the best basketball player I can be. I'll continue to train with a commitment to give 100% at all times. With the support of my parents, knowledge of my coaches, and teamwork with the players around me, I'll accomplish my goal of being an impact basketball player in high school and a recruitable college player based on my basketball ability and my academic achievements."
Alec echoes those thoughts when discussing his goals, "My goal of playing college basketball requires a commitment to high academic achievement, athletic dedication, and personal sacrifice. I have committed to this as a lifestyle and I wouldn't have it any other way. I believe that through great coaching, continued academic focus, and my work ethic, I'll be prepared for college and a college basketball program."
How do the two friends feel about each other and the unique experience of having played together for more than ten years at such young ages? Of Tony, Alec says, "Tony is the player that always does the dirty work that makes all the other players look good. He is unselfish and when it comes to crunch time, Tony always gets that critical rebound or the defensive stop. He dominates the paint and makes the other team pay for penetrating. And from a personal standpoint, he helps me stay cool and focused on the game when my motor gets going full speed and I start picking up fouls."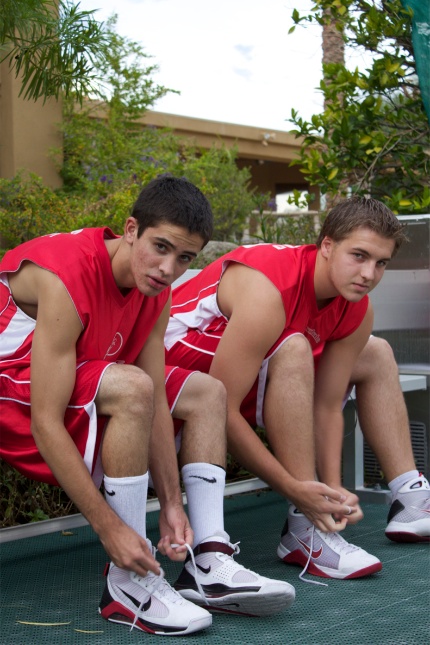 Tony says, "Alec and I can sense each other's situations on the court after so many years together. More than once, without looking or knowing, I've almost magically found the ball in my hands and an open shot because Alec knew what was happening and made a great pass. It's so natural and intuitive that I often set a pick for Alec without really seeing him or knowing positively where he is. I just know he'll be there – and he is. Alec and I both know that we've got each other's backs, and we know that we'll be at the right place at the right time to make the play we need – together."
Tony adds, "We look forward to taking our games to the next level in high school. We are lucky to be playing for Coach Fazio and the Desert Mountain High School basketball program. Our goal is to continue to work hard to be the best team members we can be so we can help our school win another State Championship." It should be very interesting to see these sophomore players mature and develop their game and continue their grade-school friendship through high school and beyond.